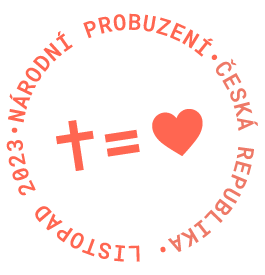 We believe that a movement of God's people is emerging in the Czech Republic and that this movement is not about big names and servants, but about individual believers. That means you are part of it too. Just step out and be obedient to the Lord. The movement is already here and now, we don't have to wait for it until November. We believe that God wants to use each of us and that He wants to do signs and wonders in this land. Therefore, in addition to the November campaign, we are also putting together a network of people who want to serve in healing ministry (phone line) as well as two Kingdom of Heaven conferences for those who want to be part of not only the November campaign, but who want to get to know each other better and move forward with us in further projects.

This fall, we have prepared not just one event for you, but two! Don't worry, we don't want to take up more of your weekends, but on the contrary, we want to get closer to you so that you can choose which event suits you best, depending on the place and date. The events will be the same in terms of content and quality.
And what will the events be about? Last year, at the Kingdom of Heaven event different speakers presented a range of ministries of the Czech church. This year we want to go one step further. In addition to quality speakers who will share again, we want 2-4 member teams from individual congregations / cities to come to the event, who have a heart to develop God's ministry in their region.
The event will therefore be more of a workshop, focused on teams and their cooperation. We will pray together, share and inspire each other. As an output, we expect that participants, who are collaborators in God's work, will continue to spread God's Kingdom in their surroundings on a daily basis.
The healing phone line is loosely connected to the project of healing rooms, which was introduced at the turn of the 19th and 20th centuries by the Scottish man of God working in the USA, John Alexander Dowie. This idea was followed by one of his most famous disciples, John G. Lake, who developed the idea of ​​healing rooms in Spokane and Portland, also in the USA. The idea of ​​the healing room is linked to the healing ministry of Jesus Christ (Matthew 4:23-25) and the acts of the Apostles (Acts 5:16) and therefore defeating sickness and bringing freedom to humanity through Jesus' redemptive sacrifice.