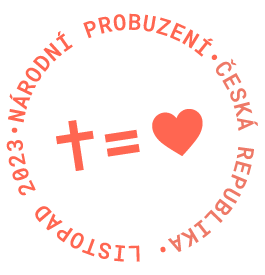 "Go into the whole world and preach the gospel to every creature."
Mark 16:15
"National Awakening" is an initiative originally started by Connect Disciples Prague (CBH Prague). The initiative aims to reach every person in the Czech Republic with the Gospel during the month of November 2023. So we are not talking about one big evangelistic event, but a month of celebrating the gospel, where people will encounter the gospel everywhere: on public transport, in newspapers, in mailboxes, on billboards, on social media, in the media and in person.
To give you a better idea of how to prepare for the National Awakening, we have put together several tutorials in collaboration with our partners to guide you through "How to Social Network", "How to Evangelize", "Who We're Looking For"" How to prepare a church", "How to reach a city", "How to capture people". We want to encourage you to go through the tutorials, improve your church's social media and website presence, and prepare properly for November.
It is better to address things sooner rather than later.
How to prepare the church
How to use social networks
The goal of Connect as a ministry of equipping disciples is to mobilize as many workers as possible for God's harvest in the shortest time possible.
We have noticed that the common goal of the church is to reach people, equip them, and then release them for further service to the Lord. And this is exactly what we are helping with – equipping disciples and releasing them for further service. The spiritual growth of people who already live with the Lord is crucial for spreading the Gospel not only in the Czech Republic but also worldwide.
An equipped disciple of Jesus Christ needs to be able to act not only in the physical but also in the spiritual realm. That is why we need to know our identity as sons and daughters of God, our position in the spiritual realm, and its functioning, as well as the power of God. Therefore, we want to bring teaching about our identity as sons and daughters of God and operating in the power of the Spirit through equipping the disciples to every district in the Czech Republic, regardless of denomination.